INVNCBL
|
Take on the challenge
Next Event Pembrey Country Park, Carmarthenshire Date 1/7/17

For all you thrill seekers out there, meet iNVNCBL. The most challenging OCR (obstacle course race) you'll get the chance of experiencing. As one of Wales' finest obstacle course races, to complete it you will need fire, tenacity and lots of ambition. Set in various locations of the Welsh countryside, our courses are perfect if you want to get down and dirty whilst being in the fresh open air with a stunning backdrop. There's no better place to take on a physical and fun challenge!
So, do you want to be iNVNCBL?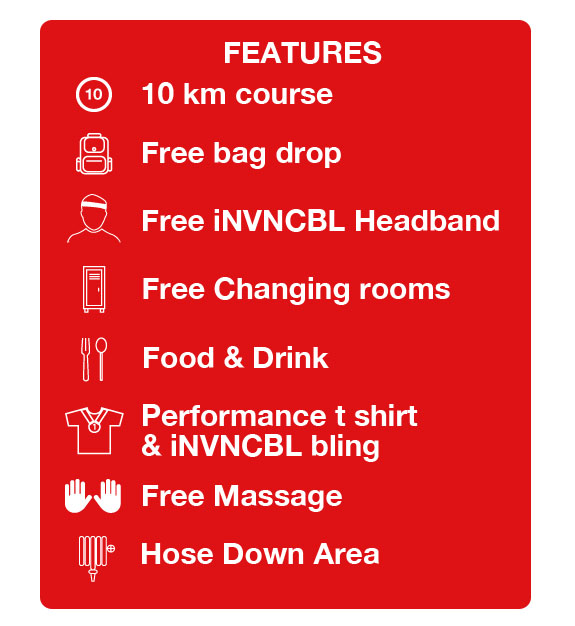 iNVNCBL is a running event providing the best combination of the natural lakes, hills and trails of the Welsh terrain as well as fun and exciting courses with challenging obstacles. Whether you love the outdoors and want a muddy challenge in Margam or you love the sea air and rolling sand dunes of Pembrey then this is the race series for you.
Our courses are adapted throughout the year to work with the ever changing natural Welsh terrain. We want to push you further than ever. iNVNCBL is worlds away from your big city races so don't expect a run-of-the-mill urban race however don't let that phase you. Our courses will make you work harder than ever and laugh from beginning to end!
As an obstacle course race event, every ability is welcome here, of course, basic fitness helps but it's all about the experience. You don't need to be super fit, you just need to be super determined. We're known for our trademark obstacles. We'll have you crawling, climbing, hanging, running, jumping and even some slip-sliding! It really is an obstacle course race like no other. Unrivalled, we are innovative and challenging and all based in some of the best Welsh countryside. Try Cardiff, Margam or Pembrey – all beautiful in their own right and all raring for some races..